FREE SPACE OPTICS (FSO)
Free Space Optics (FSO) is an optical communication technology that uses no fibre optics or radio frequency to transmit data (Internet, voice, IP telephony, TV and video) via free space links. This technology has been implemented in our Wireless Optics (WO ™) products
LANtastica-3Speed and LANtastica-2Speed.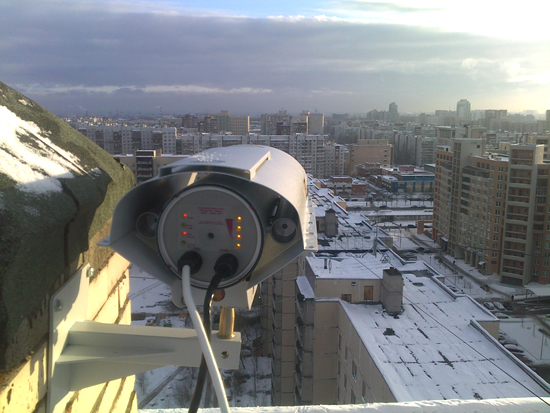 WIRELESS OPTICS - WO™ (FSO)
Noise free and resistant
No radio frequency license required
Up to a Gigabit speed
Increased capacity of existing transmission channels (Gigabit Ethernet/Fast Ethernet)
Existing transmission channels backup
Highly secure channel
Point-to-point conection through obstacles (railways, highways, industrial areas, mountains, etc.) when laying fiber (FOL), WiFi, WiMax
No transmission delays (ping <1ms)
Creation of an emergency communication channel when rapid deployment is needed
Local area networks integration
Conection of WiFi, WiMax base stations
High channel reliability resulting from a brand new FSO solution: path-state adaptive speed and beam energy
Quick and simple to deploy: 1 day commissioning
No rental fee
Save your networking investments when moving to another place
High flexibility: easy network restructuring, reconfiguring and resizing
For Corporate Customers
LANtastica systems are used to link detached facilities with high-speed (actual speed 10-1000 Mbps) channels in order to set up:
LAN Segments;
Voice Networks;
Central Data Banks and Payment Systems (ATMs, Cash Terminals, etc.);
Corporate Network and Internet Access Point;
CCTV;
Server and Automated Production Lines.
WO Corporate Solutions are designed to set up point-to-point connections at a distance of up to 1.5 km with network availability rate no less than 99.7%.
For Providers
WO systems are used to connect LAN users to Internet provider's access points at a distance of up to 1.5 km. High channel speed (10-1000 Mbps) and network availability rate (no less than 99,9%) make it possible to provide customers with a full range of modern IP services:
Internet Access;
VoIP;
IPTV;
Access to provider's LAN content at the speed of an optical fiber.
For Operators

Connecting new base stations in a complex electromagnetic environment with exhausted radio-frequency spectrum;
Alternate high-speed channels in backbone network's bottlenecks;
The "Last Hop" problem solution. All the above tasks can be successfully solved with the WO Operator Solutions.
With the speed of 10-1000 Mbps and at a distance of up to 1 km, our links have network availability rate at 99.9% (recommended) or 99.999% (attainable).
Gigabit Wireless Connection. We reach connection where others strain.
We started our research work with free space optical communication systems compliant with 10Base-T standard in 1995. Presently we offer the latest generation of radioproof Gigabit Ethernet systems with path-state adaptive speed and beam energy control technology.

IT progress and consumer pressure for higher quality and quantity of transmitted information can be satisfied with optical technologies only. Think of a wireless network alternative? It is Free Space Optics (FSO).

Need a data and voice network in a nearby building tomorrow? Need to connect remote LAN segments? Need an access to Internet or Triple Play services? Wireless Optics is the most effective solution to transmit Information from point to point and from person to person timely overpassing obstacles.
Doubt if our systems can operate in poor weather conditions (snow, rain, fog)? Our clients have already known that there is no such a problem for our systems at the recommended distances.